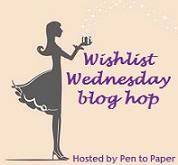 Wishlist Wednesday is a wonderful meme created by the ever sweet Dani from
Pen to Paper
where we will post about one book per week that has been on our wishlist for some time, or just added (it's entirely up to you), that we can't wait to get off the wishlist and onto our wonderful shelves.
Bewitching
(Kendra Chronicles)
by
Alex Flinn
Hardcover
336 pages
Expected publication: February 14th 2012 by HarperTeen
Summary from Goodreads:
Kendra Hilferty, the witch who curses Kyle Kingsbury in Beastly, tells about her immortal existence-how she discovered she was a witch and the various ways she has used her powers to help people throughout the centuries. (Unfortunately her attempts have often backfired.) As it turns out, Kendra has actually had a hand in "Hansel and Gretel," "The Princess and the Pea," and "The Little Mermaid"-but these are not the fairy tales you think you know! Kendra's reminiscences are wrapped around a real-time version of "Cinderella," except the "ugly" stepsister is the good guy. With dark twists, hilarious turns, and unexpected endings, Bewitching is a contemporary read for fairy-tale lovers, fantasy fans, and anyone looking for more Alex Flinn.
Babble:
I've read Beastly and found it very sweet and entertaining. So it is a natural progression for me to read this too as it is the story of Kendra the witch! I hope we get more of her quirky character and unpredictable magic. Can't wait for it's release.