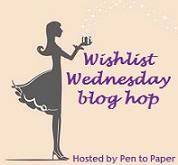 Wishlist Wednesday is a wonderful meme created by the ever sweet Dani from
Pen to Paper
where we will post about one book per week that has been on our wishlist for some time, or just added (it's entirely up to you), that we can't wait to get off the wishlist and onto our wonderful shelves.
Ripper
by
Amy Carol Reeves
Paperback
360 pages
Expected publication: April 8th 2012 by Flux
Summary:
A paranormal mystery involving London's most notorious killer
In 1888, following her mother's sudden death, seventeen-year-old Arabella Sharp goes to live with her grandmother in a posh London neighborhood. At her grandmother's request, Abbie volunteers at Whitechapel Hospital, where she discovers a passion for helping the unfortunate women and children there.
But within days, female patients begin turning up brutally murdered at the hands of Jack the Ripper. Even more horrifying, Abbie starts having strange visions that lead her straight to the Ripper's next massacres. As her apparent psychic connection with the twisted killer grows stronger, Abbie is drawn into a deadly mystery involving the murders, her mother's shadowed past, and a secret brotherhood of immortals—who'll stop at nothing to lure Abbie into its "humanitarian" aims.
Babble:
Oooh I love a good mystery thriller and it has one of my favourite historical setting. London! This might be a good Jack the Ripper mystery that I could sink my teeth into. Very curious about that 'humanitarian' thing.