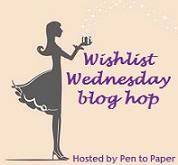 Wishlist Wednesday is a wonderful meme created by the ever sweet Dani from
Pen to Paper
where we will post about one book per week that has been on our wishlist for some time, or just added, that we can't wait to get off the wishlist and onto our wonderful shelves.
Greta and the Goblin King
(Mylena Chronicles #1)
by Entangled Publishing, LLC
Summary from Goodreads:
While trying to save her brother from the witch three years ago, Greta was thrown into the fire herself, falling through a portal to a dangerous world where humans are the enemy, and every ogre, goblin, and ghoul has a dark side that comes out with the full moon. To survive, 17-year-old Greta has hidden her humanity and taken the job of bounty hunter—and she's good at what she does. So good, she's caught the attention of Mylena's young Goblin King, the darkly enticing Isaac, who invades her dreams and undermines her determination to escape. But Greta's not the only one looking to get out of Mylena. The full moon is mere days away, and an ancient evil being knows she's the key to opening the portal. If Greta fails, she and the boys she finds stranded in the woods will die. If she succeeds, no world will be safe from what follows her back . . .
Babble:
The mere mention of the Goblin King brings back flashes of David Bowie as the debonair and sinister villain in the movie Labyrinth. But seriously, since I'm an avid fan of epic fantasy with its alternate world, witches and magic then this might just be right up my alley.