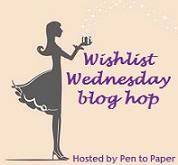 Wishlist Wednesday is a wonderful meme created by the ever sweet Dani from
Pen to Paper
where we will post about one book per week that has been on our wishlist for some time, or just added (it's entirely up to you), that we can't wait to get off the wishlist and onto our wonderful shelves.
The Unnaturalists
by
Tiffany Trent
Paperback
320 pages
Expected publication: August 14th 2012
by Simon & Schuster Books for Young Readers
Summary from Goodreads:
In an alternate London where magical creatures are preserved in a museum, two teens find themselves caught in a web of intrigue, deception, and danger.
Vespa Nyx wants nothing more than to spend the rest of her life cataloging Unnatural creatures in her father's museum, but as she gets older, the requirement to become a lady and find a husband is looming large. Syrus Reed's Tinker family has always served and revered the Unnaturals from afar, but when his family is captured to be refinery slaves, he finds that his fate may be bound up with Vespa's—and with the Unnaturals.
As the danger grows, Vespa and Syrus find themselves in a tightening web of deception and intrigue. At stake may be the fate of New London—and the world.
Babble:
Steampunk is a genre that I recently took a liking into. And this one looks promising with its ingenious concept of paranormals being kept in an enchanting museum. I'm so glad that more and more wonderful steampunk books are being published this year as I think this particular genre needs more exposure. What do you guys, think? Do you love steampunk?