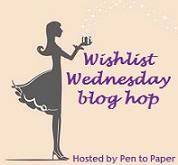 Wishlist Wednesday is a wonderful meme created by the ever sweet Dani from
Pen to Paper
where we will post about one book per week that has been on our wishlist for some time, or just added (it's entirely up to you), that we can't wait to get off the wishlist and onto our wonderful shelves.
Auracle
by
Gina Rosati
Hardcover
304 pages
Expected publication: August 7th 2012
by Roaring Brook Press
Summary from Goodreads:
16 year old Anna Rogan has a secret she's only shared with her best friend, Rei; she can astrally project out of her body, allowing her spirit to explore the world and the far reaches of the universe.
When there's a fatal accident and her classmate Taylor takes over Anna's body, what was an exhilarating distraction from her repressive home life threatens to become a permanent state. Faced with a future trapped in another dimension, Anna turns to Rei for help. Now the two of them must find a way to get Anna back into her body and stop Taylor from accusing an innocent friend of murder. Together Anna and Rei form a plan but it doesn't take into account the deeper feelings that are beginning to grow between them.

Babble:
The concept of astral projection drew me to the book and I'm so curious to find out what, where and how does the main character astral projects herself. Is it like flying or sleeping? I really can't wait for this one.