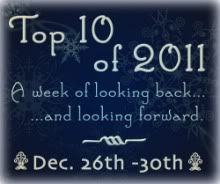 Yes, it's high time I revealed my top ten books of 2011 after featuring several of them for the past few days. Thanks to
Jessica from Confessions of a Bookaholic
,
Lisa from A Life Bound By Books
,
Jaime & Patricia from Two Chicks on Books
&
Rachel from Fiktshun
for hosting this wonderful event.
I know there's so many wonderful books that came out this year and I'm still reading some of them.
Divergent by Veronica Roth
Yes, it won the Goodreads Choice Awards and with good reason too because it is flipping amazing!
Daughter of Smoke & Bone
by Laini Taylor
I nearly shed a tear near the end. The tale of the starcrossed lovers is so tragic.
Supernaturally
by Kiersten White
How can a book about paranormals be so funny?
Demonglass
by Rachel Hawkins
I love witches and demons. And yes the London setting!
Hourglass
by Myra McEntire
Teens with superhuman powers? Way cool!
Unearthly
by Cynthia Hand
Some angels actually have to learn how to fly. Practice makes perfect!
The Night Circus
by Erin Morgenstein
It feels as if you're actually there in the circus!
Clockwork Prince by Cassandra Clare
Oh, Jem! How can you be so dreamy?
Anna Dressed in Blood
by Kendare Blake
When the villain turns out to be the hero. You rock, Anna!
The Girl Who Circumnavigated Fairyland In A Ship of Her Own Making
by Catherynne M. Valente
The title's a mouthful and it's a kids' book but the magical worlds just sucked me in. Pure genius!
Starting tomorrow you can win one of the book because I'll be participating in the Best of 2011 Giveaway Hop. Happy Holidays!