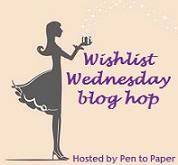 Wishlist Wednesday is a blog hop by the ever wonderful
Pen to Paper
where we get to talk about a book we're wishing for.
Tangled Tides
by Karen Amanda Hooper
328 pages
Published November 25th 2011
Summary:

When a hurricane hits her island home and she wakes up with fins, Yara finds herself tangled up in an underwater world of mysterious merfolk and secretive selkies. Both sides believe Yara can save them by fulfilling a broken promise and opening the sealed gateway to their realm, but they are battling over how it should be done. The selkies want to take her life. The merfolk want something far more precious.


Treygan, the stormy-eyed merman who turned Yara mer, will stop at nothing and sacrifice everything to protect his people—until he falls for Yara. The tides turn as Yara fights to save herself, hundreds of sea creatures, and the merman who has her heart. She could lose her soul in the process—or she might open the gateway to a love that's deeper than the oceans.
Babble:
I love mermaids. They're so beautiful and mysterious. And the cover is enchanting to say the least. So this is definitely one to read. After all we do need a break from vampires and witches once in a while.