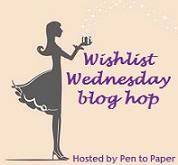 Pen to paper
is hosting this wonderful blog hop where we get to tell others about a book we're wishing for.
For me it's :
Always a Witch (Witch #2)
by Carolyn MacCullough
Published August 1st 2011
Summary:
The adventures of Tam and Gabriel continue with more time travel, Talents, spy work, and of course, the evil Knights.
Since the gripping conclusion of Once A Witch, Tamsin Greene has been haunted by her grandmother's prophecy that she will soon be forced to make a crucial decision—one so terrible that it could harm her family forever. When she discovers that her enemy, Alistair Knight, went back in time to Victorian-era New York in order to destroy her family, Tamsin is forced to follow him into the past. Stranded all alone in the nineteenth century, Tamsin soon finds herself disguised as a lady's maid in the terrifying mansion of the evil Knight family, avoiding the watchful eye of the vicious matron, La Spider, and fending off the advances of Liam Knight. As time runs out, both families square off in a thrilling display of magic. And to her horror, Tamsin finally understands the nature of her fateful choice
Babble:
Oh..where art thou Tamsin? I've always love witches. I blame it all on the Harry Potter books. I've read the first book Once a Witch and absolutely love it. I can't wait to read more about Tamsin's adventures as she try to redo the things that she did in the first book. More time travel? Yes please. Witches and time travel? Way cool!