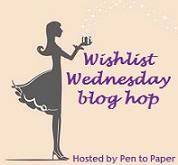 Pen to paper is hosting this wonderful blog hop where we get to tell others about a book we're wishing for.
This week it's :
Exiled (Connected #1)
by RaShelle Workman
Kindle ebook
368 pages
Published October 3rd 2011 by Polished Pen Press
Summary:
Stubborn, sixteen-year-old Princess Venus of Kelari wants one thing, to become a kelvieri, that is, until someone exiles her to Earth, kills her irrihunter and takes her family.
Now she wants revenge.
First she's got to get home. But before she can return to Kelari, the Gods have commanded her to help an arrogant boy named Michael find his soul mate. Only she doesn't know the first thing about love.
Rather quickly, her inexperience with human emotion is obscured by other matters—alien-controlled psychotic teens that are out to kill her, and a government group that is set on capturing and dissecting her.
Worst of all, Venus will suffer a painful death-by-poisoning, thanks to Earth's atmosphere, if she remains on the planet longer than one week. Still, Venus is a Princess and she's got a plan. Surely, with her help, Michael will fall in love with a human.
But time is running out and Michael is falling for the wrong girl—her.
Babble:
OMG! What an amazing cover! I've read the free sample on BN and absoultely love it. It's already out in Kindle and e-book version but I'm still waiting for the printed version just so I can have the satisfaction of kissing the beautiful cover. (Yup, I'm a big cover freak). I might just hyperventilate if it doesn't come out soon. Aliens' love story is a new genre, no? So does this book qualify as a paranormal romance or sci-fi? Beats me. I'll read it anyway.