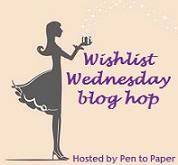 Wishlist Wednesday is a wonderful meme created by the ever sweet Pen to Paper.
Larkstorm (Larkstorm #1)
by
Dawn Rae Miller
ebook
Expected publication: December 6th 2011 (first published December 5th 2011)
Summary:
In the years following the destructive Long Winter, when half the world's population perished, the State remains locked in battle against the Sensitives: humans born with extra abilities.

As one of the last descendants of the State's Founders, seventeen-year-old Lark Greene knows her place: study hard and be a model citizen so she can follow in her family's footsteps. Her life's been set since birth, and she's looking forward to graduating and settling down with Beck, the boy she's loved longer than she can remember.

However, after Beck is accused of being Sensitive and organizing an attack against Lark, he disappears. Heartbroken and convinced the State made a mistake, Lark sets out to find him and clear his name.

But what she discovers is more dangerous and frightening than Sensitives: She must kill the boy she loves, unless he kills her first.
Babble:
This one looks like a promising dystopian. I always love a strong female character and Lark seems like a fighter. Been looking out for this for quite some time.