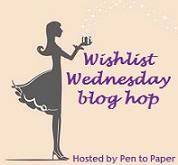 Wishlist Wednesday is a wonderful meme created by the ever sweet Dani from
Pen to Paper
where we will post about one book per week that has been on our wishlist for some time, or just added (it's entirely up to you), that we can't wait to get off the wishlist and onto our wonderful shelves.
Blood Will Tell
(Warriors of Ankh #1)
by
Samantha Young
e-book
182 pages
Published June 29th 2011
Eden is a Soul Eater. While that hasn't meant much to her in the past, she's pretty sure any minute now she's going to go all "Carrie" on her eleventh grade class.

Noah is an Ankh. As an immortal Warrior, his purpose in life is to hunt down and kill Soul Eaters.

Eden is Noah's next assignment. Problem is… this is an assignment with a difference. Eden's not your average, run of the mill, Soul Eater. Noah's job? To test Eden for possible redemption.

It's a risky business.

Especially if Noah awakens Eden's inner monster.
It would be kind of hard for Eden to listen to the angel on her shoulder when the devil on the other is telling her, her new best friend is a lying, scheming, immortal enemy...

....betrayal is such a bitch.

So is Eden when you get on her bad side.