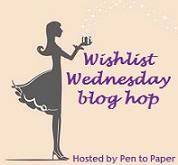 Wishlist Wednesday is a wonderful meme created by the ever sweet Dani from
Pen to Paper
where we will post about one book per week that has been on our wishlist for some time, or just added (it's entirely up to you), that we can't wait to get off the wishlist and onto our wonderful shelves.
Indulge
(Warm Delicacy #2)
by
Megan Duncan
ebook,
367 pages
Published December 14th 2011
Summary from Goodreads:
Claire's heart is torn between her first vampire love, Dmitry, and the Blood Mate, Arrick, that she is eternally bonded to with a powerfully deep and emotional connection. A vengeful vampire is haunting her steps, after Claire killed their mate. An ancient evil threatens to rip her world apart. With the danger of war looming on the darkening horizon, will Claire find the strength to fight back and protect those she loves? Even if it means embracing the darkness inside her? Is it worth it to become the evil she fears, in order to destroy it?
Babble:
I can't believe I'm missing all these great vampire action! I just read Savor and absolutely love it and was curious about Claire's history. So this is probably next for me. Excuse me while I dash off to check it out and it's only $2.99!
Available on: Amazon &
Smashwords
e