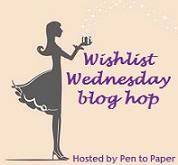 Wishlist Wednesday is a wonderful meme created by the ever sweet Dani from
Pen to Paper
where we will post about one book per week that has been on our wishlist for some time, or just added (it's entirely up to you), that we can't wait to get off the wishlist and onto our wonderful shelves.
The Messenger
by
Leah Rose
Paperback
262 pages
Expected publication: May 1st 2012
by Lands Atlantic Publishing
Summary from Goodreads:
Sixteen year old Jeilin leaves the ordinary behind when she's inducted into the king's service as a horseback riding messenger. She expects a life of adventure and freedom, but those hopes are shattered after being captured by a foreign army.
Given the choice between death and conversion, she swears service to the enemy even though, in her heart, she remains loyal to her kingdom.
As Jeilin's youthful innocence crumbles, she wonders if the prince will still be fond of her; if she can even find a way to help place him back on his rightful throne.
Full of turmoil and sacrifice, The Messenger is a powerful tale of survival, bravery, and loyalty.
Babble:
Whoa! That girl looks pretty bad-ass! Is this a medieval female Pony Express?I just love a strong heroine.