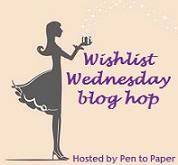 Wishlist Wednesday is a wonderful meme created by the ever sweet Dani from
Pen to Paper
where we will post about one book per week that has been on our wishlist for some time, or just added (it's entirely up to you), that we can't wait to get off the wishlist and onto our wonderful shelves.
The Sphinx Project
(The Chimaera Chronicles #1)
by
Kate Hawkings
Paperback
Published February 28th 2012


Summary from Goodreads:
Not many people can say their entire existence has been one big lab experiment: poked and prodded by scientists, genetically modified to be the best and endure the worst, subjected to daily tests and trials that would kill a normal human. All Michaela wants is her own life, to be able to go to school, flirt with boys, maybe eat ice cream now and then. So when the chance to escape finally comes, Michaela and her sister grab it, taking their friends with them.
But they weren't the only ones to find their way out of those labs. Following close behind are another breed of creature, one that doesn't know the difference between right and wrong, who exist only to feed their own hunger. The appearance of a strange boy who seems too much like them to be a coincidence makes things even more confusing. But as the world begins to literally fall apart around them, Michaela must accept his help, especially when she could lose the very thing she holds dearest: her sister.
Babble:
I am sorely reminded by the TV series Dark Angel when I read the blurb of this book. You know the one with Jessica Alba as some cool experimental kid/soldier who escape with her friends. I love the idea behind that. So I'm very excited to check this one out too.